The 2002 Rond Van Achterberg took place in Belgium as part of our first training camp. A TT over 2 laps of a 3 mile circuit, including a stretch of road that resembled a dry stone wall laid flat. Alex decided that he should assist with the time keeping rather than haul is new slimmed down figure around this demanding course, Ian took on the roll of time keeper and the riders set of at minute intervals along the side of the canal then turned right on to the first cobbled section, then right on to the smooth tarmac for the long section in to the wind followed by another right turn at the local pub for a short cobbled section to the finish. This is just a brief description of the course used, and fuller details about the event will be related by the individuals when they send in thier report of the week spent training inBelgium
Rond Van Achterberg Result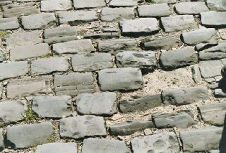 Scratch
Tom Smith 17.30
Paul Mason 18.03
Mike Partridge 18.50
Trevor Partridge 19.36
Rachel Ball 19.45
Loyd Thomas 20.30
Osian Meilyer 20.24
Mark Thomas 21.20

Handicap
Rachel Ball
Osian Meilyer
Mike Partridge
Lloyd Thomas
Paul Mason
Mark Thomas
Trevor Partridge
Tom Smith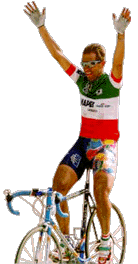 What a brilliant week
When we were asked to go on the CC Cardiff training camp I must admit I was a bit apprehensive. I couldn't have been far wrong. I can honestly say we had a brilliant time. It was Myles's 10th birthday on the Wednesday so myself Gill and Anne decided to hire bikes and join the others on one of their rides. Gill's children and Chris came along to. We women were by far the better riders. I did knock down a few trees and Anne didn't look anywhere other than ahead in fear of crashing and Gill, well she just showed off the whole way. Bethan was the star of the ride. A future CC Cardiff champion there I think. We rode down to the canal and as the men were tired and needed a break we agreed to stop off at a bar and have a drink and something to eat. They have some strange names for food in Belgium, in particular 'Cream' We stayed for about an hour and then returned to the camp for a well-deserved rest.
We were all talking about our high and low points of the week. One of my highs was definitely the encounter with Dutch lady Gill and I had in the shop. RIGHT!!!!!!!! I can't really say I had a low.
Trevor's high has to be the NUDE, MIXED sauna (say no more) put it this way he was very disappointed at the sauna in Fitness First on Wednesday. Anne had to remind him to keep his clothes on. His low was not finding out about it until the day before we were due home.
Mike's high was the pool and water fights and his low was hitting the floor with such force when he came off.
The training Mike and the others had from Alex was absolutely brilliant. There were some really good rides along the canals and cycle paths. It's a real shame we haven't got the safety they have over there. Mike felt he really gained from training twice a day and Trevor was proud with his once a day effort. I think between Mark and Trevor they did a fair bit of drinking mind you me, Anne and Gill didn't do too bad.
I think we all enjoyed our week together. Paul was a brill with the kids and not a bad cook either from what I can gather. It was good to get to know him, as we only seem to see him zooming pass on the track. Mind you he gave Anne and myself a few scares trying to get his money together for his bike in Holland.
The only downfall was that the week ended so quickly and the blinking awful journey home. We are all looking forward to a repeat performance next year.
Thanks Anne for organizing it and thanks Alex for the excellent training.

Debbie
Fat Boy Slim? Highs in a Low Country
Can I just say that 4 days in bed recovering from post-viral fatigue which meant I missed Herne Hill and no training for 10 days does not ideal training camp preparation make. I hadn't been too sure either how I'd fit in as I was neither a parent nor a teenage rider. Marilyn Manson cds and reading "Preparing Yourself For Your Child's Adolescence" could have been the order of the day.
Belgium was flat. It was very flat, which meant I had a chance to ride myself back to some sort of basic fitness on the early morning rides around the lovely canals. Such sites became somewhat tainted however as Alex chose them for lactic tolerance work on most afternoons. "If you're sick, so much the better" he noted smiling inappropriately at our impending pain. Several of us obliged, while Alex, Trev, Mark and Ian had a picnic. Nice.
The group riding was a pleasure though, giving me a chance to chat a bit with the likes of Trev and Mark both of whom showed impressive endurance. Owl impressions from the back of the bunch by Mikey one day, and Osh's far too jolly and reckless ride through sand when the rest of us were riding on empty were two of the more bizarre memories of the week. Osh putting on his pants in the morning was unfortunately another, but I'm in therapy for that and I'm making slow but steady progress thank you for asking.
MTV at 7am to accompany stretching with Rachel (check it out, check it out) became another regular habit during the week, as did fig rolls, shouting "Choc Ices" for no discernible reason whatever and being in bed by 10pm. My fellow riders were capable of much later nights and early mornings. I say capable, Osh did appear one morning shuffling along holding his head with no actual eyes, just slits making a low moaning noise. He went to bed early the next night.
Highlights for me were the day trip to Hopmans bike shop in Holland where The Family Smith provided me with enough funds and knowledge to get my first proper bike, a Merckx Alu Sprint. They may claim a refund as I have kitted it out with Ultegra rather than Chorus. My other favourite moment was Alex insisting I eat a cake he'd bought. I forced it down reluctantly of course.
Lots of bonding all round then with Mamushka's, Choc Ices and the odd sighting of the Grand Panjandrum. I liked playing Mum in my house though will never be as good as Anne, Debbie and Gill (can't quite get the hang of the eyebrow pencil). Alex was the real star though, managing to play Dad, Coach and Entertainer through the whole week while riding twice a day, every day with the rest of us. Thanks then in particular to him and Anne for all the organisation and effort that went into such a fab week. Track honours beckon for all (well, maybe not me actually as I'm a bit rubbish still).
Paul